Duaa for Forgiveness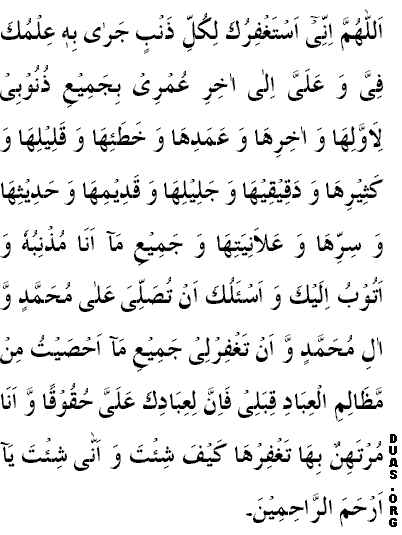 ALLAHUMMA INNEE ASTAGHFIRUKA LIKULLI D'AMBIN JARAA BIHEE I'LMUKA FIYYA WA A'LAYYA ILAA AAKHIRI U'MREE BI-JAMEE-I D'UNOOBEE LI-AWWALIHAA WA AAKHIRIHAA WA A'MADIHAA WA KHAT A-IHAA WA QALEELIHAA WA KATHEERIHAA WA DAQEEQIHAA WA JALEELIHAA WA QADEEMIHAA WA H'ADEETHIHAA WA SIRRIHAA WA A'LAANIYATIHAA WA JAMEE-I MAA ANAA MUD'NIBUHOO WA ATOOBU ILAYKA WA AS-ALUKA AN TUS'ALLIYA A'LAA MUH'AMMADIN WA AALI MUH'AMMADIN WA AN TAGHFIRA LEE JAMEE-A, MAA AH'S'AYTU MIM MAZ'AALIMIL I'BAADI QIBALEE FA-INNA LI-IBAADIKA A'LAYYA H'UQOOQAN WA ANAA MURTAHINUM BIHAA TAGHFIRUHAA KAYFA SHI-TA WA ANNAA SHIA-TA YAA ARH'AMAR RAAH'IMEEN
O Allah, I seek forgiveness for every sin, I committed, about which, of course, You know inside and out, from the beginning to the end of my life, whether committed deliberately or intentionally, few or many, abstruse or manifest, old or new, secretly carried out or openly done; and for whatever wrong I have done I turn repentant unto You and beseech You to bless Muhammad and the children of Muhammad and forgive all my unjust acts I did to wrong the people (because they have rights which I have to recognize and fulfill) but You have full authority to forgive those wrongdoings whenever and howsoever You wish, O the most merciful.
In honor of Hajj being in this month, the Duaa of the Month will be one to day when you are beginning your Hajj. :)
Dua after taking Ghusl – Wearing Ehram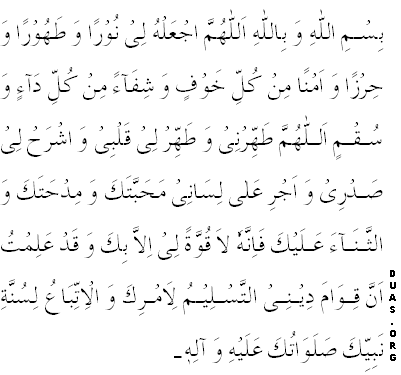 BISMILLAHI WABILLAHI ALLAHUMMAJALHU FII NURAN WATAHUZAN WAHUZAN WAAMNAN MIN KULLI KHWAFIN WASHIFAAN MIN KULLI DAAIN WASUQMIN. ALLAHUMMA TAHHIRNII WATAHII QALBII WASHRIHLII SADRII WAAJRI ALAA LISAANII MAHABBATAKA WAMIDHATAKA WASSANAAA ALAIKA FAINNAHU LAA QUWWATA LII ILLA BIKA WAQAD ALIMTU ANNAQIWAAMA DIINII ALTASLIIMU LAKA WALITTIBAAU LISUNNATI NABIYYIKA SALAWAATUKA ALAIHI WAALIHI.
I commence by the name of Allah and seek help from Him. O Allah render this ghusl an illumination for me and that it may purify me, protect me from all fears and be a cure for all ills. O Allah! Purify me and my heart, broaden my chest and that my tongue may utter words of love, adoration and praise for You as there is no strength for me but You and I know that my religion is submission to You and following the practices of Your prophet, may Your peace be on him.
SeekersGuidance - Course Catalog
Register now for free online classes on Islam, from the basic to the advanced, on many topics. 
muslismafashionistasteph asked: Salam :D how are you? I wish for you the very best, especially during this special month. I have a small favor to ask and that is whether you would be able to please participate in and spread the word about my blog page "letters of love", which is about writing letters to children who are either sick, orphaned, and/or experiencing extremely difficult circumstances in several parts of the world. Thank you very much,jazaakallahu 5ayran :D shukran
wa alaikum salam!
I'm doing well, alhamdulilah. Eid Mubarak to you and your family!
FOLLOWERS!
please check out her Letters of Love and participate if you can and inshaAllah I will as well. :)
my post-ramadan goals:
continue reading 10 pages of Quran every morning and evening

pray at least one prayer at the mosque every month

continue praying sunnah prayers

fast monday and thursday in a week at least once a month
what are some of your post-Ramadan goals/plans?
This is the duaa that the Prophet (SAWW) told us to say before breaking our fast.
ذَهَبَ الظَّمَأُ وَ ابْتَلَّتِ الْعُرُوقُ، وَ ثَبَتَ الأجْرُ إنْ شَاءَ اللَّهُ
dhahabadh dhama-u wabtallatil 'urooqu, wa tha-batal ajru in-shaa Allah
The thrist is gone, the veins are moistened and the reward is confirmed, if Allah [Ta'ala] wills.
This month's dua comes from the Quran and is about patience in the face of disbelievers.
وَلَمَّا بَرَزُوا لِجَالُوتَ وَجُنُودِه ِِ قَالُوا رَبَّنَا أَفْرِغْ عَلَيْنَا صَبْرا ً وَثَبِّتْ أَقْدَامَنَا وَانْصُرْنَا عَلَى الْقَوْمِالْكَافِ
Wa Lammā Barazū Lijālūta Wa Junūdihi Qālū Rabbanā 'Afrigh`Alaynā Şabrāan Wa Thabbit 'Aqdāmanā Wa Anşurnā `Alá Al-Qawmi Al-Kāfirīna
And when they advanced to meet Jalût (Goliath) and his forces, they invoked: "Our Lord! Pour forth on us patience, set our feet firm and make us victorious over the disbelieving people." (Al-Baqarah 2:250)
I don't usually do this.. But Im going to any outlet possible to help. i have a dear friend who is in a VERY very negatively desperate situation I would be very grateful if you could send some DUAS her way. I would be forever grateful Jazak Allah khairun in advance for anyone that does this for me
There are 11 different surahs that you can listen to right now. If you want me to add others that aren't on there, let me know and I will, inshaAllah. :)
what surahs would you guys want?