English transliteration and translation below break
Ramadan is a month in which we increased our spirituality and strengthen our relationship with the Qur'an. Ramadan can be overwhelming for women, as we strive to balance family, siblings, extended family, work and social obligations. At the same time, we want to increase our ibaadah and spiritual development, and the balance can be very challenging.
Somehow, with lots of du'a, a Ramadan plan and less sleep, many sisters do manage their duties and become more productive in their ibaadah during this blessed month (alhamdulilah!). The important question is, how can we continue to balance our different duties and roles, and continue a high level of ibaadah after Ramadan too?
In this article, I will mention some practical solutions on how to continue our acts of worship after Ramadan, so we consistently feel the infamous Ramadan imaan-high!
The Post-Ramadan Action Plan!
Here are a few tips of continuing our Ramadan habits after Ramadan to ensure we remain on that spiritual high:
We all know the famous saying, "failing to plan, is planning to fail". We were all advised tohave a plan for Ramadan. So why not have one for after Ramadan? Ramadan is a great time to bond with the family, so ensure you involve them in the post-Ramadan action plan too.
Going to bed early gives our spiritual development a great motivational boost. By performing wudu, praying two nawafil (voluntary rakaah) and the accompanying du'as we say before going to bed, you will wake up refreshed and energised.
Ramadan was a time of late mosque visits and standing long, listening to beautiful recitation during taraweeh. Continuing tahajjud after Ramadan is a invaluable habit, even if it's only for 15 minutes before Fajr. Allah loves actions that are small and consistent.
Recite the Qur'an regularly, even if it is a page a day, to make sure you are keeping that Ramadan-connection with the Qur'an. Take 1-2 hours out a week to ponder and reflect over its meaning by reading translation or tafsir.
Dhikr is a well-established practice during Ramadan. Save 5-10 minutes for morning and evening adhkar, and utter the words while you do other chores or work.
A healthy body full of vitality is very important. The Prophet Muhammad  said, "Your body has a right over you" [Bukhari]. It's important to embark on a healthy well balanced eating plan to cope with the demands of fasting, and it is as important to continue healthy eating after Ramadan, to give your body renewed energy levels and vitality for ibaadah and all your other duties after Ramadan.
A must have for sisters is "me-time", to relax and also reconnect with Allah . It could be as simple as treating yourself to a nice cup of tea, whilst your husband, siblings or extended family take the kids from you for a while. Even if you have no children, you still need sometime to recuperate from work, household and family obligations. You can spend this time making dhikr and reflecting on your performance during Ramadan.
Light exercise such as walking or cycling for 15-20 minutes a few times a week, will also give us a motivational boost and increase our energy levels. You can even have walks with your children or with your husband – whatever floats your boat.
Balancing Household Obligations after Ramadan
Our household, work and social obligations still remain after Ramadan. Here are tips to continue our Ramadan habits so we can make the most effective use of our time:
Stock up food cupboards with food you will need for about a month, as this decreases weekly shopping trips and impulse buys
Just as leftovers were great for suhoor during Ramadan, be creative and use leftovers to make the meal for the next day
Have regular mini halaqahs with your family; the children will love the continued feeling of Ramadan.
Take power naps when you can! Mothers often find this difficult to do; schedule 20 minutes when you have dropped your kids off to school, or after work before starting on the next activity.
Plan activities for your children to keep them busy while you complete other duties or even take that nap!
Endless Cooking!
"Feeding fasting people can be fulfilled by a simple one or two course meal rather than a four course one that takes up so much time leading to me being very tired and unproductive", claims a mum-to-be.
This is a principle we can continue after Ramadan:
Have a meeting with your family and decide on the meals you will be having throughout the month and getting the whole family involved is a great way of lightening the load.
Delegate household activities to your husband, children, neighbours and extended family. My kids love to be empowered during the month of Ramadan to be involved in choosing and cooking light healthy meals. Ramadan is a perfect opportunity for families to eat and do activities together and this should be continued after Ramadan too.
Share your post-Ramadan goals with your family and let them know that you want to continue the spirituality of Ramadan, and would appreciate their help with the household activities. This will ensure you have more energy and free time to focus on the Qur'an and in your worship to Allah , even after Ramadan.
Keep up the Support Networks
Ramadan is a time where sisters make an extra effort to visit the masjid, especially for taraweeh prayers, which instilled the "Ramadan-feeling" into us. Greeting sisters every evening and standing together in prayer are things we may miss after Ramadan, and may make sisters feel lonely once the blessed month is over.
Here are a few things you can do in your community to continue the support network in the masjid after Ramadan:
Simply organise for family to babysit for a few hours while you go to the masjid. This could be when you have your "me-time"!
Have a mothers and kids meeting club; ideally, this could be in a hall within the masjid. This gives the mothers a chance to go to the masjid and the children to socialise with other kids in the community.
Organise small events and gatherings in the masjid, and especially invite single sisters, single parents and others you know are on their own. Involve them and show that you care for their well-being, not just during Ramadan but after Ramadan too.
So, there you have it sisters! Your comprehensive post-Ramadan action plan to ensure that you continue your Ramadan ibaadah, even when the blessed month is over. Comment below with your tips and advice on keeping the spiritual high after Ramadan!
About the Author:
Khafaya Abdulsalam is a mother of four, providing practical parenting workshops, seminars and professional coaching services to Muslim mothers across the globe and empowering Muslimahs to be the mothers they want their kids to see. She aims to take motherhood to the 3rd degree by equipping Muslim mothers with tools, practical tips and techniques on how to be masters of motherhood, raising happy, confident and productive Muslim kids!
Most importantly, Khafayah trains mothers on how to re-discover themselves in order to perform the most important role assigned to them by Allah SWT – Motherhood! Visit her website at http://www.ummuka.com
Become an active member of the ProductiveMuslim community and enrich it with your thoughts. Leave a comment on this article and with it, your presence. We look forward to reading your comments.
Image source: zohrasarwari[dot]com
At ProductiveMuslimah, we believe the ultimate secret to a successful Muslimah is that she strives with sincere intentions and uses all the resources around her to achieve the highest stations in Paradise. We are always looking for the 'secrets to productivity' and wanted to explore how some of the Muslim women today manage time effectively and perform the best in all the roles they hold being a mother, wife, daughter, professional, activist and more! Ramadan is an especially important time for sisters to reflect and gain as much reward and forgiveness as possible from Allah 
. So we decided to get some of the 'Productive Muslimahs' of our time in the hot seat to find out their top tips and secrets to become a Productive Muslimah!
We are very excited to be joined in this special Ramadan edition by Sister Zohra Sarwari, an international author of ten groundbreaking books, coach to women and children, business coach, entrepreneur, public speaker, mother of 3, and founder of SuperCharge Homeschooling! She is in our ProductiveMuslimah hot seat today, so we asked her to tell us her secrets on how she manages to stay productive during Ramadan while juggling her family, her work and her writing!
1) We're very excited to have you share your Secrets as a Productive Muslimah so thank you for joining us! First, tell us who inspires you to be a Productive Muslimah?
Bismillah, wal Hamdullilah. Jazak Allaah Khairan for having me here and for thinking of me as a Productive Muslimah. Alhamdullilah, my inspiration is my Lord. I love Him so much, and am thankful for guidance and everything else He has given me.
2) Masha Allah you currently home-school your children and have set up a fantastic website, full of resources to help parents with homeschooling (SuperCharge Homeschooling). What was the deciding factor that led you to homeschooling your children? What benefits have you seen that could not be achieved with regular schooling?
The deciding factor for me was when I learned what would benefit me after I die. Since my children would be one of those cases, I needed to invest in them so that they may benefit me when I need it most insha'Allaah. Benefits I have seen are alhamdullilah many. Better tarbiyah, praying 5 times a day, fasting the month of Ramadan and other days, learning the Qur'aan, and wanting to memorize it in sha Allah. Also graduating from secular studies early in sha Allah.
3) What advice would you give to mothers who find the idea of homeschooling daunting? Is it accessible to all?
Lol….homeschooling is TOUGH. I will not lie and say it is super easy. As with anything else you must put in the time and effort to achieve the results that you want. However, my secret ingredient is making du'aa to Allah and asking Him for help in whatever areas that I need. Alhamdullilah that is how I have made it this far, believing in my dream of raising righteous children for the sake of Allah, and asking Him help doing it. Without Allah, I could not have done it. Alhamdullilah. (All praise truly belongs to Him.)
4) Alhamdulilah, the blessed month of Ramadan is upon us. How do you manage teaching your children during this busy time?
During this beautiful month we cutback on the dunya studies, and focus more on fasting, reading the Qur'an with meaning (tafsir), and learning something new for our deen. In sha Allah this year's goal is to memorize Allah's 
 names and attributes; while we have done some of them in the past, this year I really want us to know it inside out in sha Allah. Again, all with the help of Allah 
.
5) For mothers, Ramadan tends to be a month spent living in the kitchen, and when they're not there then they're engaged with some other household responsibilities. How can they make time for themselves to be spiritually productive and to feel that they have made the most of productivity during Ramadan?
First of all, the concept of us cooking all day must be deleted especially in this month. We need to make a schedule and write down what we are cooking which days, how long each meal should take, and if we are eating leftovers the next day. We should really try to make it where our meal or meals do not take more than 1 hour each day. I personally like cooking extra and eating leftovers. As much as I love my family and friends, I do not like to attend iftar parties, as it will take away from my ibadah time. This month we have no time to waste, and Allah knows best. Also while cooking they [sisters] could listen to the Qur'an or a lecture so that they may be rewarded that way as well in sha Allah.
6) It is important of course, to get the whole family involved in activities during Ramadan. How can mothers work with children to instill an understanding and spirit of Ramadan within them?
By making a schedule of exactly what they are doing each day, and what their goals for Ramadan are. Ramadan should be fun for kids, and they should get rewarded for even the small deeds that they do.
7) What is your role as a wife within your family during Ramadan, and how has this helped your family's overall productivity?
My role is to make sure I wake up early and cook and get food ready for everyone, to inspire them through out the day, reward them here and there, and share our schedule daily so that we are all on the same page. This way they see the goals we have and they want to achieve it as well in sha Allah.
8) Jazakillah khayr for all of your advice Sister Zohra. Can you give us any last words of advice to mothers so they can enjoy a productive Ramadan? Any advice, tips, something that worked with you, anything behind the scenes, something you tried last Ramadan that worked wonders?
I would say make your intention to make each Ramadan as if it is your last one. Think of each day as one you may not be here for next year. Plan accordingly, be happy, and be SUPER patient as shaytaan is locked up! Make a schedule and stick with it. Ask your kids to share any knowledge that they obtain during dinner time. Make Ramadan about fasting, not about eating. How you behave and act is what your kids will learn in sha Allah! Jazak Allah Khairan!
Well thank you to Sister Zohra for the wonderful advice and practical tips – there you have it sisters! Let us know your thoughts and comment below, and don't forget to look out for our next instalment of 'Secrets of a Productive Muslimah'!
About the Author:
Zohra Sarwari is an author of 13 books, author of 3 homeschooling curriculums, international speaker, entrepreneur, publisher, and teacher to 3 kids. She has a Bachelor's Degree in Psychology, a Masters Degree in Business Administration, and she is currently taking classes for a Bachelors Degree in Islamic Studies. Her passion is teaching Muslims to become the best they can be, in sha Allah, while teaching non-Muslims about the true Islam. She spends her time teaching her kids, going on speaking tours, coaching Muslims, and working on her curriculums. She prays that within 2-3 years time, she is able to have a full online school for kids all over the world in sha Allah. She has been seen on CBS, FOX News, and many other TV channels. She has also been interviewed in many magazines, newspapers, and radio shows. She speaks at many of the best colleges and universities mashaAllah. Her 3 children have authored 11 books together, mashaAllah.
P.S. Found this article useful? Share the khair! I'd suggest emailing this article [Interview] Secrets of a Productive Muslimah – Ramadan Edition to at least 1 person (relative, friend or colleague) who you think could benefit from it. Better yet, ask them to signup at http://ProductiveMuslim.com/Newsletter and get Abu Productive's exclusive newsletter (sent only via email) with a productivity tip of the week sent every blessed Friday. :)
Assalamualiakum (peace be upon you!)
I just wanted to send a quick message to all the non-Muslims that follow this blog. If you ever have any questions, please feel free to ask and I'll always do my best to answer them. 
And this really goes for anyone. I know sometimes it takes me a while to get to questions but that's just because I want to be sure I give the right information to the best of my ability. 
So, as usual, my ask box is always open. No question is too big or too little for me to answer or to try and find you the answer to. 
I hope everyone is having a wonderful and blessed Ramadan. :)
-Samira
Duaa for Forgiveness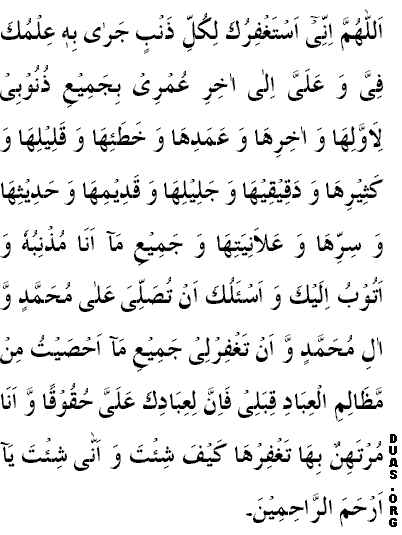 ALLAHUMMA INNEE ASTAGHFIRUKA LIKULLI D'AMBIN JARAA BIHEE I'LMUKA FIYYA WA A'LAYYA ILAA AAKHIRI U'MREE BI-JAMEE-I D'UNOOBEE LI-AWWALIHAA WA AAKHIRIHAA WA A'MADIHAA WA KHAT A-IHAA WA QALEELIHAA WA KATHEERIHAA WA DAQEEQIHAA WA JALEELIHAA WA QADEEMIHAA WA H'ADEETHIHAA WA SIRRIHAA WA A'LAANIYATIHAA WA JAMEE-I MAA ANAA MUD'NIBUHOO WA ATOOBU ILAYKA WA AS-ALUKA AN TUS'ALLIYA A'LAA MUH'AMMADIN WA AALI MUH'AMMADIN WA AN TAGHFIRA LEE JAMEE-A, MAA AH'S'AYTU MIM MAZ'AALIMIL I'BAADI QIBALEE FA-INNA LI-IBAADIKA A'LAYYA H'UQOOQAN WA ANAA MURTAHINUM BIHAA TAGHFIRUHAA KAYFA SHI-TA WA ANNAA SHIA-TA YAA ARH'AMAR RAAH'IMEEN
O Allah, I seek forgiveness for every sin, I committed, about which, of course, You know inside and out, from the beginning to the end of my life, whether committed deliberately or intentionally, few or many, abstruse or manifest, old or new, secretly carried out or openly done; and for whatever wrong I have done I turn repentant unto You and beseech You to bless Muhammad and the children of Muhammad and forgive all my unjust acts I did to wrong the people (because they have rights which I have to recognize and fulfill) but You have full authority to forgive those wrongdoings whenever and howsoever You wish, O the most merciful.
In honor of Hajj being in this month, the Duaa of the Month will be one to day when you are beginning your Hajj. :)
Dua after taking Ghusl – Wearing Ehram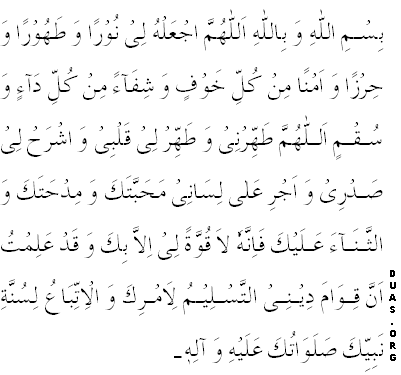 BISMILLAHI WABILLAHI ALLAHUMMAJALHU FII NURAN WATAHUZAN WAHUZAN WAAMNAN MIN KULLI KHWAFIN WASHIFAAN MIN KULLI DAAIN WASUQMIN. ALLAHUMMA TAHHIRNII WATAHII QALBII WASHRIHLII SADRII WAAJRI ALAA LISAANII MAHABBATAKA WAMIDHATAKA WASSANAAA ALAIKA FAINNAHU LAA QUWWATA LII ILLA BIKA WAQAD ALIMTU ANNAQIWAAMA DIINII ALTASLIIMU LAKA WALITTIBAAU LISUNNATI NABIYYIKA SALAWAATUKA ALAIHI WAALIHI.
I commence by the name of Allah and seek help from Him. O Allah render this ghusl an illumination for me and that it may purify me, protect me from all fears and be a cure for all ills. O Allah! Purify me and my heart, broaden my chest and that my tongue may utter words of love, adoration and praise for You as there is no strength for me but You and I know that my religion is submission to You and following the practices of Your prophet, may Your peace be on him.
SeekersGuidance - Course Catalog
Register now for free online classes on Islam, from the basic to the advanced, on many topics. 
stephoneworldcitizen said: Salam :D how are you? I wish for you the very best, especially during this special month. I have a small favor to ask and that is whether you would be able to please participate in and spread the word about my blog page "letters of love", which is about writing letters to children who are either sick, orphaned, and/or experiencing extremely difficult circumstances in several parts of the world. Thank you very much,jazaakallahu 5ayran :D shukran
wa alaikum salam!
I'm doing well, alhamdulilah. Eid Mubarak to you and your family!
FOLLOWERS!
please check out her Letters of Love and participate if you can and inshaAllah I will as well. :)
my post-ramadan goals:
continue reading 10 pages of Quran every morning and evening

pray at least one prayer at the mosque every month

continue praying sunnah prayers

fast monday and thursday in a week at least once a month
what are some of your post-Ramadan goals/plans?
This is the duaa that the Prophet (SAWW) told us to say before breaking our fast.
ذَهَبَ الظَّمَأُ وَ ابْتَلَّتِ الْعُرُوقُ، وَ ثَبَتَ الأجْرُ إنْ شَاءَ اللَّهُ
dhahabadh dhama-u wabtallatil 'urooqu, wa tha-batal ajru in-shaa Allah
The thrist is gone, the veins are moistened and the reward is confirmed, if Allah [Ta'ala] wills.
This month's dua comes from the Quran and is about patience in the face of disbelievers.
وَلَمَّا بَرَزُوا لِجَالُوتَ وَجُنُودِه ِِ قَالُوا رَبَّنَا أَفْرِغْ عَلَيْنَا صَبْرا ً وَثَبِّتْ أَقْدَامَنَا وَانْصُرْنَا عَلَى الْقَوْمِالْكَافِ
Wa Lammā Barazū Lijālūta Wa Junūdihi Qālū Rabbanā 'Afrigh`Alaynā Şabrāan Wa Thabbit 'Aqdāmanā Wa Anşurnā `Alá Al-Qawmi Al-Kāfirīna
And when they advanced to meet Jalût (Goliath) and his forces, they invoked: "Our Lord! Pour forth on us patience, set our feet firm and make us victorious over the disbelieving people." (Al-Baqarah 2:250)
I don't usually do this.. But Im going to any outlet possible to help. i have a dear friend who is in a VERY very negatively desperate situation I would be very grateful if you could send some DUAS her way. I would be forever grateful Jazak Allah khairun in advance for anyone that does this for me
There are 11 different surahs that you can listen to right now. If you want me to add others that aren't on there, let me know and I will, inshaAllah. :)
what surahs would you guys want?